Year 5 & 6 Philosophy Update
Teaching and Learning in Years 5 and 6
Students Embrace the Joie de vivre of Learning French
Dear Parents,
Term 4 in Hartford's first year is racing by.  You will have noticed a lot happening in recent weeks. I'd also like to turn your attention to the upcoming Christmas party, for Hartford families (existing and new), on Saturday the 25th of November, 4:30 PM. See the flyer below.
The boys will be having various final assessments and exams in the next weeks. We need to help them get used to being accountable for the good use of God-given talents that they have been given, and to delivering when it counts.  Often, they still seem like little boys who are most happy playing in the sunshine, and who are equally absorbed by screens alone and without human interactions.
Examinations are a snippet of the real world, as is the daily news.  In these days, when there is abundant evidence of man's inhumanity to his fellow man, we should take every opportunity to encourage them to pray for peace and to help them understand the value of every person.
Warm Regards
Frank Monagle,
Principal
Teaching and Learning in Years 5 and 6  
Sport for Life in Term 4
As we continue to provide students with sport for life experiences, we rely on the support of our local community. This term, our students have been diligently learning essential boxing skills at the local Daceyville PCYC gym.
They've made remarkable progress in mastering footwork, skipping skills, punches, and defensive techniques. They've shown dedication and discipline, and we're proud of their growth. The lessons have honed their physical abilities and fostered discipline, confidence, and resilience. Our students have been fortunate to have an inspiring boxing coach, Jamon, who not only imparts technical knowledge but also instils values of determination and self-belief. We eagerly anticipate the continued journey of our students in the boxing ring, with the hope that they will discover a newfound passion that will inspire a lifelong commitment to health and fitness. 
The Daceyville PCYC offers a wide array of after-school programs and holiday opportunities that may appeal to your son's interest. To explore the offerings available, please visit the following link: https://www.pcycnsw.org.au/eastern-suburbs. 
Science and Geography in Years 5 & 6
This term, in our Science and Geography classes, students are actively investigating extreme weather events and their profound impact on both people and places, with a specific focus on Australia. They are immersing themselves in the intricacies of tectonic plates, weather patterns, fire behaviour, and the environmental variables that contribute to the intensity of bushfires. A comprehensive research task coupled with an enlightening excursion to the Museum of Fire in Penrith will significantly expand the students' knowledge about extreme weather events while enhancing their sense of responsibility and awareness in preparing for bushfires. Later in the term, our students will channel their expertise into designing Bushfire Emergency Plan posters, promoting safety and preparedness in our community. 
English: Novel Study, Years 5 & 6
The magic of Charles Dicken's 'A Christmas Carol' is alive in the hands of our Year 5 and 6 students in our English lessons this term. The story revolves around Ebenezer Scrooge, a cold-hearted and miserly old man who despises Christmas and everything associated with it. The students are enjoying this literary classic and learning invaluable life lessons about kindness, compassion, and the true meaning of Christmas. The students enjoy Dicken's unique storytelling style whilst learning about the harsh living and working conditions and social issues in 19th-century England. 
Students Embrace the Joie de Vivre of Learning French
In a heartwarming turn of events, students at our school are expressing their delight in learning the beautiful French language. With enthusiasm, they are diving into the world of French culture, vocabulary, and pronunciation, all while enjoying every step of the journey.
One of the primary reasons for this newfound passion is the interactive and engaging approach to teaching. I have incorporated fun activities, such as songs, games, and group discussions, that make learning French feel like an exciting adventure. Students describe it as "learning while having fun."
In conclusion, our students have discovered that learning French can be an exciting and enjoyable endeavor. The combination of interactive teaching methods has ignited their passion for the language. As they say, "Apprendre le français est une aventure incroyable!" (Learning French is an incredible adventure).
The students seem quite refreshed and keen as they return for their final term. I guess that we adults have more to concern ourselves with, as opposed to the simpler life of boys at Hartford.
I continue with my weekly classes and Mass at the school, as well as chatting pretty regularly with each student. And I am enjoying it. The classes are the most demanding for me. I think I am out of practice - teaching Mathematics in high school seems like a long while ago.
The classes here at Hartford are based on virtues. So it would seem I have an almost endless list of topics. I am trying to be systematic, so just working through an alphabetical list. First A, then B, then C, etc.
In the last few classes, we have covered:
Abandonment (trust in God, etc);
Beginning and beginning again (no need to worry, just set out again, etc);
Courage (be brave, etc);
Determination (have a sense of wanting to go forward, etc.);
Enthusiasm (always cheerful; so helpful to be positive);
Forgiveness (very useful for some of the unintended consequences of playground interaction); AND this week we reached G, so I talked about...
God (Why is the world good? Because God made it, etc.)
Each class usually contains a few stories to illustrate the message, to help the students to remember it, and hopefully these stories are usually intrinsically interesting. Anyway, that is what is happening in the life of the School Chaplain and his task at Hartford College.
Until next time,
Fr. Paul
Year 5 & 6 Philosophy Update
This week in Year 5 and 6 Introduction to Western Civilization, the boys got an introduction to the broad outlines of European history. In our class, we watched a video of a changing map of Europe, detailing the rise and fall of empires and civilizations, from 400 BC all the way up to the present day.
The boys were glued to the screen as they saw the colourful map changing as the years ticked by. They were exclaiming and cheering as they saw sudden changes: the fall of the Roman Empire, the invasion of the Mongolian Hordes, and World War II.
It was another great experience for the boys as they have continued to familiarise themselves with world history this year.
- Emma Wood
Important Announcements and Reminders
2023 & 2024 Term Dates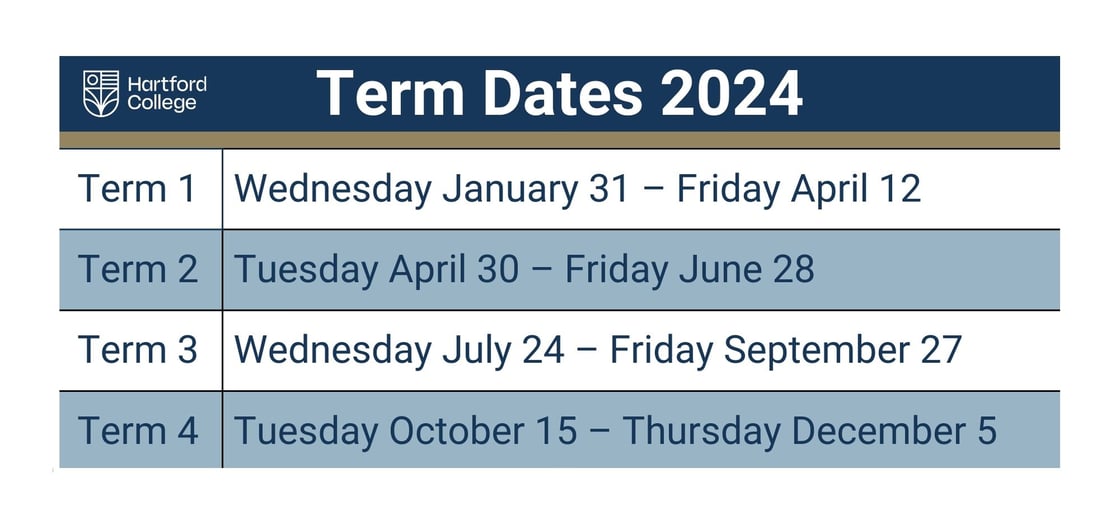 Upcoming Events
Please see the following link for upcoming Term 4 events:
THE HART is Hartford College's newsletter for parents and students. Here you will receive all the latest news for what is happening around the school.
The name 'THE HART' refers to a mature stag of more than five years old. Its use is now considered in a more poetic form deriving from the Middle English word hert.
The word hart can be found in many classic texts such as the Old English epic Beowulf, which names Hrothgar's royal hall Heorot after the Danish word hjort meaning "deer".
J. R. R. Tolkien uses the word hart in his book The Hobbit, especially in the scenes traveling through Mirkwood Forest.
Shakespeare's uses the word in his plays, particularly the Twelfth Night as a pun between 'hart' and 'heart'.
It is in the spirit of these great works that we decided to name our newsletter THE HART since we want our boys to grow into mature and wise men like a faun grows into the stag or hart.
This newsletter will go to the heart of what is happening at our school by sharing news, stories and events.